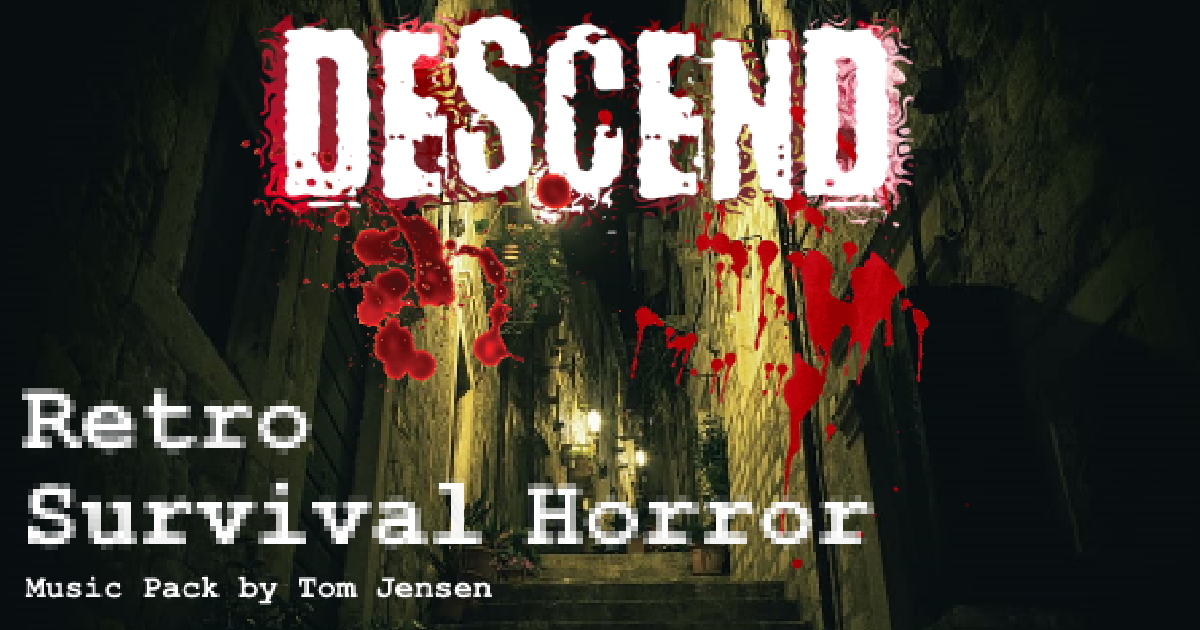 Descend - Retro Survival Horror Music Pack
A downloadable asset pack
27 Tracks of Retro Survival Horror music, perfect for those low-poly, old school terrors, or any retro style, ps1-esque horror game. Inspired by the Resident Evil 1 and 2 soundtracks, and written using synthesizers that would have been available to the original composers back in the 90s!
35 minutes of music that will unnerve and terrify, from ambient soundscapes, suspense and unsettling strings, to safe room themes, boss fights and action tracks.
25 Unique tracks are provided, as well as a variation on one of the safe room themes, and a "boss fight intensifies" track, for when that boss battle kicks up to the next level!
Preview the full tracks here:
https://tomjensen.bandcamp.com/album/descend-retro-survival-horror-music-pack
TRACKLIST (44.1kHz, 16bit .wav & 150-200 kbps .mp3)
-Action 1 (Loops) [0:07] -Action 2 (Loops) [0:36]
-Action 3 (Loops) [0:03]
-Ambient 1 (Loops) [0:15]
-Ambient 2 (Loops) [1:07]
-Ambient 3 (Loops) [0:26]
-Ambient 4 (Loops) [1:06]
-Ambient 5 (Loops) [1:09]
-Boss Fight 1 (Loops: Loop Point at [0:23:796]) [0:39]
-Boss Fight 1 Longplay (Loops) [5:02]
-Boss Fight 2 (Loops: Loop Point at [0:07:012] [0:19]
-Boss Fight 2 Longplay (Loops) [5:01]
-Boss Fight 2 Intensifies (Loops) [0:07]
-Boss Fight 3 (Loops: Loop Point at [0:03:612]) [0:16]
-Boss Fight 3 Longplay (Loops) [5:05]
-Game Start Hit [0:07]
-Puzzle 1 (Loops) [0:27]
-Puzzle 2 (Loops) [1:44]
-Safe Room 1 (Loops) [0:41]
-Safe Room 1 Alternate (Loops) [0:20]
-Safe Room 2 (Loops) [0:53]
-Safe Room 3 (Loops) [1:31]
-Strings 1 (Loops) [0:31]
-Strings 2 (Loops) [1:18]
-Strings 3 - Synth (Loops) [0:52]
-Strings 4 (Loops) [1:27]
-Strings 5 (Loops) [1:30]
-Suspense 1 (Loops) [1:16]
-Suspense 2 (Loops) [1:09]
-Suspense 3 (Loops) [0:25]
Purchase
In order to download this asset pack you must purchase it at or above the minimum price of $14.99 USD. You will get access to the following files:
TOM JENSEN - DESCEND - RETRO SURVIVAL HORROR.zip
384 MB